Born on the Caribbean island of Aruba on a 7th of September, Hildward Croes comes from a family of deep musical roots. His mother Ada is a singer and his father Maiky is a musician, singer, and choir director of their hometown church of Santa Cruz.
At an early age Mr. and Mrs. Croes encouraged their four sons to participate in the church choir on Sundays. This has been an important musical influence on the entire Croes family.
Since little Hildward was performing with different youth groups. A music-lover since birth, Hildward started playing the piano at home with the help of his father at the age of 8. After a few years playing by ear, Hildward began taking piano lessons with various music teachers on the island.
In 1977 while forming part of the band that accompanied their church choir, Hildward and his brother Michael were invited to start the band Cryptus Confession. 'Cryptus' became one of the most popular 'top-40' bands of Aruba in the late 70s, recording the number 1 hit of 1980: Love Dream, part of a successful album of Hildward's original compositions recorded at Criteria Studios, Miami in the summer of 1979. With Cryptus Confession, Hildward toured extensively in Venezuela and other Caribbean islands.
In 1981, Croes received a scholarship from the Arubian government to study music at the renowned Berklee College of Music in Boston. While in Boston he got many invitations to participate in recordings and perform in student concerts. By spring 1984 he finished his bachelor's degree in professional music and started post-graduate studies in music at Bowling Green State University, Ohio.
At the end of 1985 Hildward returned to Aruba with a master of music degree and became one of the most popular arrangers and producers of the area. He produced numerous hits for artists and groups in Aruba, Curacao, and other Caribbean islands. After he was signed to produce an album of Caribbean music for the record label Sonografica in Caracas, Venezuela in 1988, Hildward got noticed by the "merengue-king" of the 80s: Wilfrido Vargas. Vargas immediately signed him to be a part of his orchestra and produce recordings for his record company.
In 1989 Hildward toured Europe, North, Central and South America with the Wilfrido Vargas orchestra playing keyboards and programming the computer sequences for the live shows. During this time Croes also arranged and produced for many successful Latin American artists such as Las Chicas Del Can, Altamira Banda Show, Eddy Herrera, Roy Tavare, Micky Taveras, and of course Wilfrido Vargas.
In February of 1990, Hildward earned an American Grammy Award nomination in the Latin-Tropical category for his work on the album Animacion by Wilfrido Vargas, which he co-produced. The same year he won first prize in the international competition of arrangements of the world-popular hit-song of that time: Lambada, which he arranged and produced for the popular ladies-group: Las Chicas Del Can.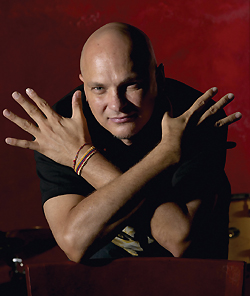 Towards the end of 1990, Hildward was approached by the world-famous Dominican singer-songwriter Juan Luis Guerra to be a part of his orchestra. During the following years playing keyboards and programming the computer sequencers for Juan Luis Guerra & 4.40, Hildward toured the world performing sold-out concerts.
Croes was awarded prestigious prizes and recognition in his native Aruba on many occasions. Awards such as arranger of the year, musician of the year, music-man of the year, etc. At the end of 1990, Hildward was awarded musician of the decade and received the distinguished honor of being named man of the year by the local press.
After Juan Luis Guerra retired from the music scene for a few years in 1995, Croes returned to Aruba where he was once again one of the hardest working producers on the island, as well as a regular performer in local night-clubs, hotels and casinos.
While working with Juan Luis Guerra & 4.40, Hildward met and established a strong friendship with Chichi Peralta who at the time was the main percussionist of the group. In 1997 Croes received a call from his old friend Chichi Peralta who wanted him to be a part of his then newly formed project: Son Familia. With Chichi Peralta + Son Familia, Hildward was once again touring the world playing sold-out concert halls and stadiums.
In 1999 Hildward participated extensively as an advisor, arranger, keyboardist, and music calligrapher in the production of the CD: De Vuelta Al Barrio, which earned them a Latin Grammy Award for best merengue album in 2001. The live CD/DVD release 'En Vivo' by Chichi Peralta became a huge success in France and other parts of Europe. Croes made musical arrangements and played the accordion, piano, and keyboards on Chichi Peralta's CD: Mas Que Suficiente, which was nominated as Best Contemporary Tropical Album in the 2006 Latin Grammy Awards.
Since 1992 Hildward directs and writes for his own Dushi Band which has become one of the most popular local bands especially during the carnival festivities producing hit songs year after year and winning music festivals on many occasions.
Hildward also plays the accordion with Grupo Di Betico; a typical acoustic folkloric music group formed by Croes' family members that performs regularly at the end of each year during the holiday season.
Hildward directs show and special event orchestras and has his own production company where he continues to produce music for film, TV, radio ads, jingles, as well as CDs for artists around the Caribbean and South America out of his home-studio: Vanilla Kingdom.
In his free time Hildward can be found relaxing and enjoying the Caribbean sun and white sandy beaches of his native Aruba.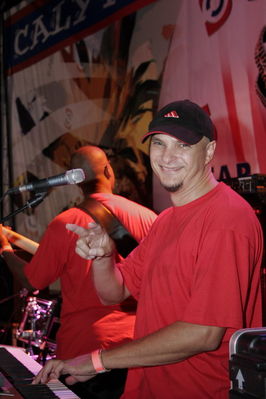 Participation In Bands
Chichi Peralta + Son Familia (latin, son, merengue), Dushi Band of Aruba (up-tempo caribbean dance and carnival music), Grupo Di Betico (acoustic folkloric aruban music), Sonic Lab 297 (pop, latin, reggae, rock), JEMM (funk, soul, r&b, jazz), Soul Cowboy (contemporary jazz), Roots Rebels (roots, reggae), Antonio Bello Blues (blues, rock), and others.
Beethoven, Mozart, Chopin, Liszt, McCoy Tyner, Bill Evans, Oscar Peterson, Herbie Hancock, Chick Corea, Keith Jarrett, Joe Zawinul, Dave Grusin.
Hobbies
Arts, movies, and water-sports.